Myrtos beach is without doubt one of the most important poles of attraction in Kefalonia. It is located 30km north of Argostoli, in a beautiful area around huge verdant hills. Myrtos beach has gained worldwide reputation and has been constantly included in travel magazines among the best beaches in Greece and in the world. It has been awarded many times for its cleanness and the natural beauty.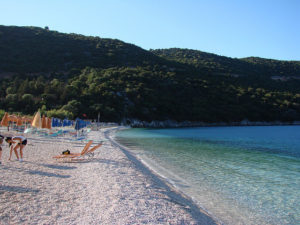 Antisamos beach is arguably one of the most favourable destinations for swimming and sunbathing in Kefalonia. It is located 27km east from Argostoli and pretty close to the port of Sami. Antisamos distinguishes for its natural beauty that consists of turquoise waters and a marvelous surrounding of green hills and lush vegetation on top of it.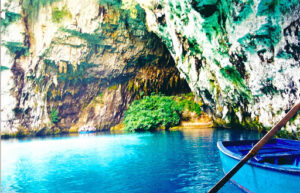 Melissani lake: Situated just outside Sami, the Cave of Melissani has a strange appeal. It is one of the most significant places for tourists to visit in Greece. Surprisingly, there is a lake inside the cave that has trees and forests surrounding it. The cave itself is B-shaped with two chambers or halls separated with land or an island in the center. The roof of one of the halls caved in centuries ago letting sunlight filter in. The depth of the lake is 20 to 30 meters. When the sun is right overhead at noon, the sunlight hitting the turquoise-blue waters create a magical illusion and the whole Cave of Melissani suddenly feels lit with blue light.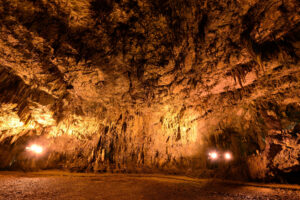 Drogarati cave:The Drogarati Cave in Kefalonia was discovered 300 years ago and opened to the public in 1963. It was discovered when a strong earthquake caused a collapse that revealed the cave's entrance. Drogarati is an impressive cave with remarkable formations of stalactites and stalagmites. Speleologists say that this cave is about 150 million years old and constitutes a rare geological phenomenon.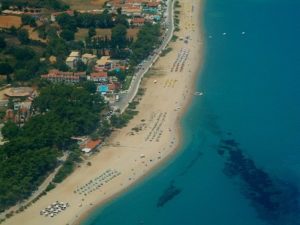 Skala: The small fishing village of Skala sits on the southern tip of Kefalonia near Mounda bay. It is known for its beautiful layout and long sandy beach. has a beautiful long sandy beach bordered by dense bush hills and rocky outcrops. The beautiful beach is bordered by dense lush hills and rocky outcrops, a unique combination that captivates many visitors. The beach has been awarded with the Blue Flag for its cleanness and organization, something that is still famous for. Skala gets quite crowded during the summer season but you can still find a secluded spot for some quiet moments.