Kefalonia is a big island with alot of beautiful places to visit, down below we have marked some daily trips and routes you could follow to see some interesting parts of the island.
1. South – East Kefalonia
A day trip exploring the south east part of the island. Start from Skala(A) and follow the cost road to Poros(B).Enjoy the view and make a stop for a swim at the beautiful sandy and rocky beaches.After having a refreshing drink in Poros(B) head for the fishing village of Katelios(C).Walk around the narrow roads full of traditional restaurants and cafes.On the way back to Skala(A) do not miss the longest sandy beach on the island, mounta beach(D).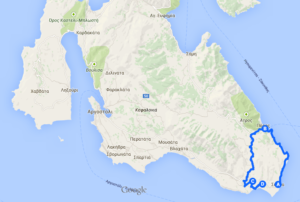 2. Sami – Antisamos beach – Agia Efimia
A day trip to explore the very intersting area of Sami(B). Head north following the cost road from Skala(A) to Poros. About 40 minutes away is the port of Sami(B), in this area there are two wonderful sightseeings : Drogarati cave and Melisani lake (for more info check our Kefalonia Highlights page). Only 10 minutes away from Sami(B) you will find the beautiful beach Antisamos(C). Also don't miss the little fishing village of Agia Efimia(D) where you will find many restaurants and cafes.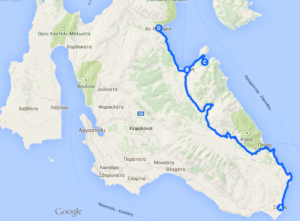 3. South Kefalonia (main town)
Follow the road towards town of Argostoli(B) which is 45 minutes away from Skala. On the way don't miss Saint George's castle in the small village Travliata and enjoy the panoramic view of south Kefalonia. Few minutes away from Argostoli there is the touristic resort Lassi(C), much more busy than Skala, especially in high season both sandy beaches ,Platis and Makris Gialos, will be crowded. On the way back take the road through the small villages of southern Kefalonia (Kato Livatho), especially in the village of Kourkoumelata(D) you will see traditional houses with big gardens full of flowers.